Amaco Group's initiative to distribute oxygen devices in Lebanon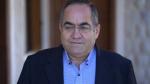 Amaco Group's initiative to distribute oxygen devices in Lebanon
The Corona epidemic caused an unprecedented disaster in Lebanon, which came to be added to other crises and disasters. In commitment to its social and national responsibility, Amaco Group took the initiative in 2020 and 2021 to distribute respirators to associations and local authorities all over Lebanon.
The group was keen to pay great attention to developing an integrated plan to deliver respirators to the areas most in need, given the worsening health situation in some areas and the collapse of health services.
From city to city and from town to town, Amaco team rushed to deliver aid as quickly as possible, through organizations, clinics and personalities, to help save lives.
The epidemic did not deter Amaco from carrying out its duties from the far north of the country to the far south.
In this film, we cover some of the most prominent stages the initiative has gone through.