About Us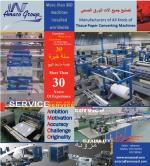 AMACO GROUP
Headquartered in Lebanon; Specialized in Tissue Paper Industry, especially in Converting Tissue Paper Machines & Tissue Paper Mill Machines.
Our long experience of more than Forty years made us pioneers in this field. Our business activities are spread worldwide.
We seek to reach the highest preferred image through offering our customers high qualified machinery and services.
We have more than 900 machines installed worldwide. With our long experience, we are able to be your advisors to choose the right machines that are applicable to your requirements and production costs.
Our machines are characterized as heavy-duty,excellent quality, innovative techniques, international branding, as well as customizable specifications. They are also characterized by the ease of operation, acceptable pricing and economic energy consumption during operation, which assures efficient costs of production.
Every feature in our machines can be adjusted according to the customer's request, which lead worldwide spread demand on our machines.
We yearn to reach the top-class performances in our field of business; that allows us to reach great reputations in offering our customers all the suitable machines based on their needs.