Ali El Abdallah, Chief Executive of tissue converting machinery and tissue paper machinery supplier Amaco Group, Lebanon.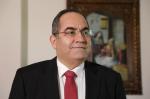 Ali El Abdallah, Chief Executive of tissue converting machinery and tissue paper machinery supplier Amaco Group, Lebanon.
| | |
| --- | --- |
| "WE BELIEVE THAT IT WILL BE THE YEAR OF TISSUE GROWTH AND PROSPERITY, ESPECIALLY IN THE MIDDLE EAST." | |
Published in Tissue World Magazine.

Ali El Abdallah, Chief Executive of tissue converting machinery and tissue paper machinery supplier Amaco Group, During 2021 and 2022, tissue paper converters have seen a very different environment from previous years, and there are several reasons for this. One of the most significant reasons is that there was a shortage of pulp and tissue paper jumbo rolls, which is reminiscent of the same case in 1994 and 1995 when the price of a ton of pulp exceeded $1,000 and a ton of jumbo rolls reached $2,200, and then after a few years things returned to normal. This is currently negatively affected the growth of the tissue paper converting factories, limiting their development and growth. In particular, some factories could not operate their machines at their full capacity due to the lack of tissue paper jumbo rolls.
As a result, the percentage of profit for tissue paper converters during these years has been lower than in previous years to keep their market share. However, I believe that in 2023 the situation of tissue paper converter will change and will be for their benefit. They will achieve growth and profit due to the abundance of pulp and tissue paper jumbo rolls.
As for the opportunities and challenges for the year 2023, there will be growth for tissue paper mills and as soon as there is enough pulp supply, this will also reflect positively on tissue paper mills and their profit rate.
Tissue paper converter will then have many choices from several sources with better terms and better prices, which will be reflected in their profit margin.
All the tissue paper converters that have a strong vision and business development mind set are working to develop themselves for the coming year so that they are ready for the abundant time of tissue paper jumbo rolls that will arrive soon. Note that the decline in the prices of raw materials does not reflect the price of the final product, and this opens horizons and opportunities for new projects, even for old factories, to be able to develop themselves and their machinery, equipment and increase production capacity.
As for the world's paper consumption and the trends we are seeing across markets, there is still a lot of variety from one country to another. In Europe for example, the rolling system is the leader, but in the Middle East regions, they follow the V interfolding system more, noting that in recent years the rolling system has witnessed significant growth in terms of maxi roll, centre pull, kitchen towel, industrial and household, and it has grown significantly more than previous years, especially since the folding system is more for facial use. And we see facial tissue in the soft pack more than the carton duplex, which has been noticeably declining in recent years.
Therefore, most of the tissue converters in the Middle East and the Gulf are producing facial tissue in soft packs. This increase in soft pack facial tissue production affects negatively on the production on carton duplex facial tissue production. Additionally, the interfold hand towel market is witnessing significant growth in the region and its consumption is increasing in institutions. However, a few tissue converters in the Middle East and North Africa produce towels with double embossing unit and lamination and that consumption will increase in the coming years, while the manufacture of hand towel with single embossing and without lamination is more popular recently. This is due to the fact that it is the first towel product in the market and due to the price and cost factor.
For Egypt, for example, in the past few years the main consumption was pocket tissue, and with the development in the growth rate of tissue paper consumption and the increased number of factories and machines in the country that have interfolded machines, this reflected the increase in the consumption of interfolded tissue and reduced the consumption of pocket tissue.
Note that in general the consumption of tissue paper increased with Covid-19 and the situation of tissue converters and tissue mills was excellent in 2020. In terms of environmental initiatives, we at Amaco have founded an association concerned with these matters for more than 15 years, called the Development For People And Nature Association (DPNA) and where I am a permanent board member. This association's role is to develop environmental ideas for all people, especially in our small country and the region. It is also conducting courses for company owners and working on environmental awareness, especially on the waste that comes from paper mills and how it can be used in a correct and beneficial way that is of benefit for the sustainability of the environment in the future.
Regarding developments in digital technology and e-commerce, the Corona pandemic helped Amaco and gave us a big push forward in this matter. It also gave us an idea of ​​how to help our customers install and operate their machines online, when previously we used to go to the customer's country to do this.
Due to the Corona pandemic, we became obligated to keep pace with digital technology, and we developed our team on this basis to be efficient in carrying out the task successfully. We have been able to install several machines in one day in different countries and this has helped us a lot and saved us time to increase our business. Note that with the decrease in the percentage of Corona, Amaco technicians have returned to visit our customers, but the follow-up is still advanced now that it can also be carried out online.
In terms of expectations for the year 2023 and 2024, we believe that it will be the year of tissue growth and prosperity, especially in the Middle East. Up until the end of 2023 there will be an increase in production in the Gulf countries, with around 550 tons per day from the start-up of three new projects. There are also serious ideas that can turn into a reality for projects in the Arab countries and the region, and all this leads to an abundance of tissue paper jumbo roll.