О компании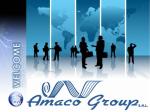 AMACO GROUP, headquartered in Lebanon, specialized in the tissue paper industry, especially the Converting Tissue Paper Machines & the Tissue Paper Mill Machines.
The long experience, for more than twenty five years, makes us pioneers in this field. Our business activities is spread world widely.
We are usually seeking to reach the highest preferred image through offering our customers
high qualified machines and service.

The machines are characterized as heavy-duty machines with excellent quality, innovative techniques, international brands, as well as customized specifications. Our machines are mainly characterized by the ease of operation, the acceptable price and economic energy consumption during operation, which assures efficient costs of production, noting that all our machines' features can be adjusted according to the customer's request.
In addition to the flexibility of our machines to offer many options which make our machines installed and operated in many factories in the world.
We are always yearning forward to reach the top business class performance in our field which qualified us to reach the preferred image to offer our customers the suitable machines that fit their needs the most.